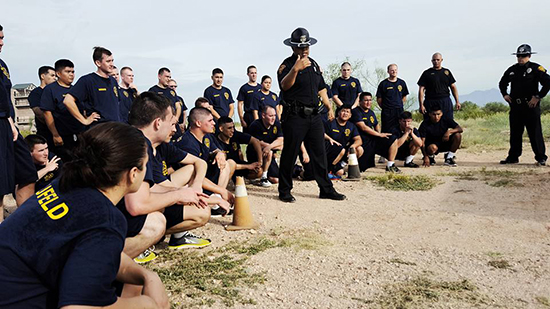 Officers who maintain a high degree of physical conditioning are less prone to be affected by stressful situations and are less prone to injury. The S.A.L.E.T.C. Physical training program will push you every day to help you improve no matter what you level.
Coming to the academy prepared physically will help recruits with every aspect of the academy. To help prepare yourself we have a 30 day fitness guide. (Provide link to pdf of guide)
Peace Officer Physical Aptitude Test (POPAT)
Arizona Peace Officers Standards and Training (AZPOST) requires all recruits to pass the POPAT in
Order to graduate and become certified in the state of Arizona, this consists of the following:
500 yard run
99 yard obstacle course
Body Drag
6 foot chain-link fence
6 foot sold wood fence
Academics
Recruits will spend a large portion of their time in the classroom learning constitutional law, Arizona law, arrest policies and procedures, investigative procedures and many other topics. Exams will be given every Monday and those who fail to maintain a certain academic level will be removed from the academy.
Applied Skills Proficiency
Recruits will be instructed in several areas and required to demonstrate proficiency in those areas in order to graduate and become certified, these areas include
Firearms
Driving
Defensive Tactics