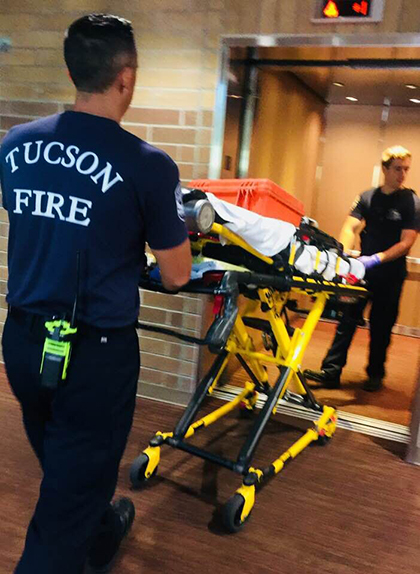 Recruit Training Academy
TFD Fire Fighter recruits go through an intense 20 - 22 week para-military training program designed to provide the skills needed to be successful firefighters. The Tucson Fire Public Safety Academy values of Integrity, Courage and Excellence are introduced in recruit training, and are strengthened throughout the 20 - 22 week program.
Recruits must successfully complete both a series of written exams based on classroom work, and practical exams based on skills taught and practiced during hands-on drill time. All candidates hired by the Tucson Fire Department must complete this training program.
While at the Academy, recruits are trained in proper firefighting techniques, procedures, and tactics. Emergency medical fundamentals are also taught and every firefighter recruit is trained to the Emergency Medical Technicians -Basic level, meaning they can provide Basic Life Support skills. Proficiency in both is reinforced through written tests and skills demonstrations.
Physical training is conducted every day, and recruits must gain and maintain the strength and fitness necessary to meet the demands of firefighting. Physical training consists of both cardiovascular, muscular strength and strength endurance workouts. Regular fitness evaluations are conducted that consist of pull-ups, push-ups, minimum 2-minute plank, and a 1.5-mile run.
Upon completion of the Academy, recruits receive Arizona State Firefighter I & II certification.